COME FOR A VISIT IN 2023!
Free, Fun & Educational Maple Tours
2023 Tours start March 4th and 5th in Temple New Hampshire!
Do you love Maple Syrup? Do you know why it is expensive to buy? Well maple syrup takes a lot of dedication and time just to make 1 gallon, that's why we call it LIQUID GOLD. Come visit us in Temple and Newbury New Hampshire to find out how we make it and how to eat it!
Every weekend we will offer the same tours, samples and experience but......
Maple Donuts & Maple Ice Cream will only be offered March 18th & 19th and 25th and 26th at our Temple NH location Only.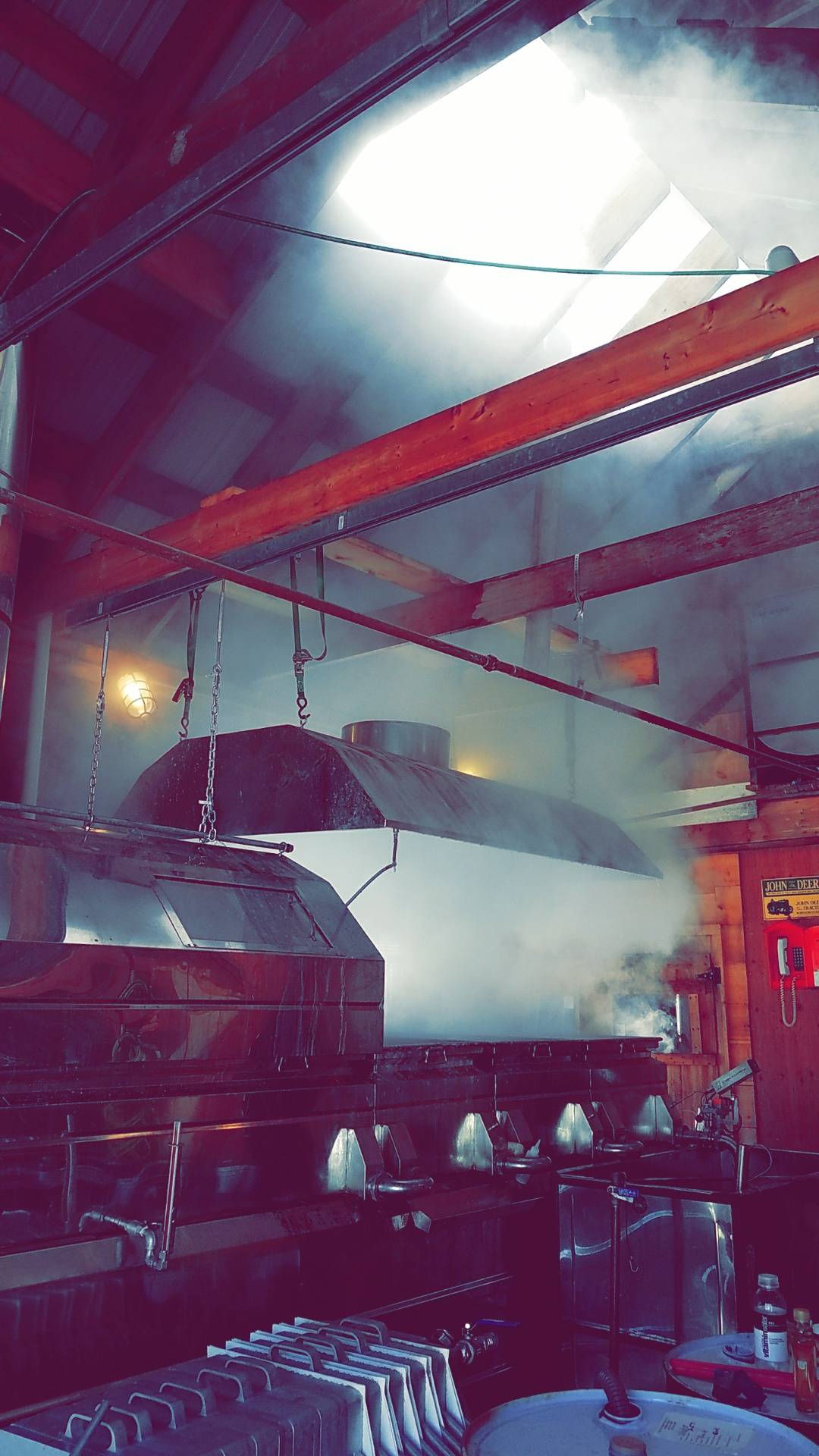 We are open every weekend in March from 10 a.m to 5 p.m. during the peak season and offer free 30 minute tours. The last weekend for Tours are April 1st and 2nd.

This tour consists of learning about the traditional way of collecting using sap buckets, the modern way with plastic lines, seeing our pump house and collecting tanks, learning about the Reverse Osmosis system we use, meeting Ben and seeing him run the evaporator and then the best part; sampling.

Some of those samples include, (Fresh/Hot maple donuts, maple soft serve -last 2 weekends in March),-EVERY WEEKEND WE WILL HAVE maple roasted nuts (pecan, almonds, cashews), maple cotton candy, maple fudge, maple BBQ sauce, all 3 grades of syrup, maple soda and more.
Between sampling in the tent and checking out our gift shop (Ben's Original Evaporator Room when he was a kid) you can enjoy the beautiful views of our pond and take pictures with our "Tap It" picture board.
"BIG MAPLE WEEKEND" (March 18/19 & 25/26)

Our Newbury NH location will be open every weekend. You will be able to view the evaporator and shop at the gift shop. This location has limited staff and sampling. There will not be ice-cream or donuts at this location.

2023 FREE TOURS Countdown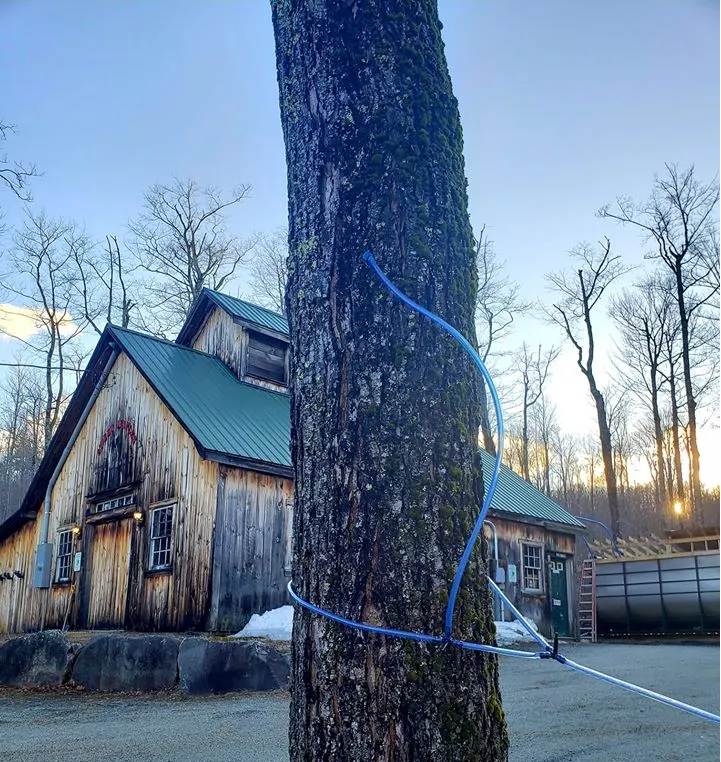 Newbury Sugarhouse Location
693 NH RT 103
Newbury NH 03255
603.763.4111
OPEN EVERY WEEKEND IN MARCH
Saturday & Sunday 10 a.m. to 5 p.m.
Follow us on Facebook for Updates on
dates and tour information.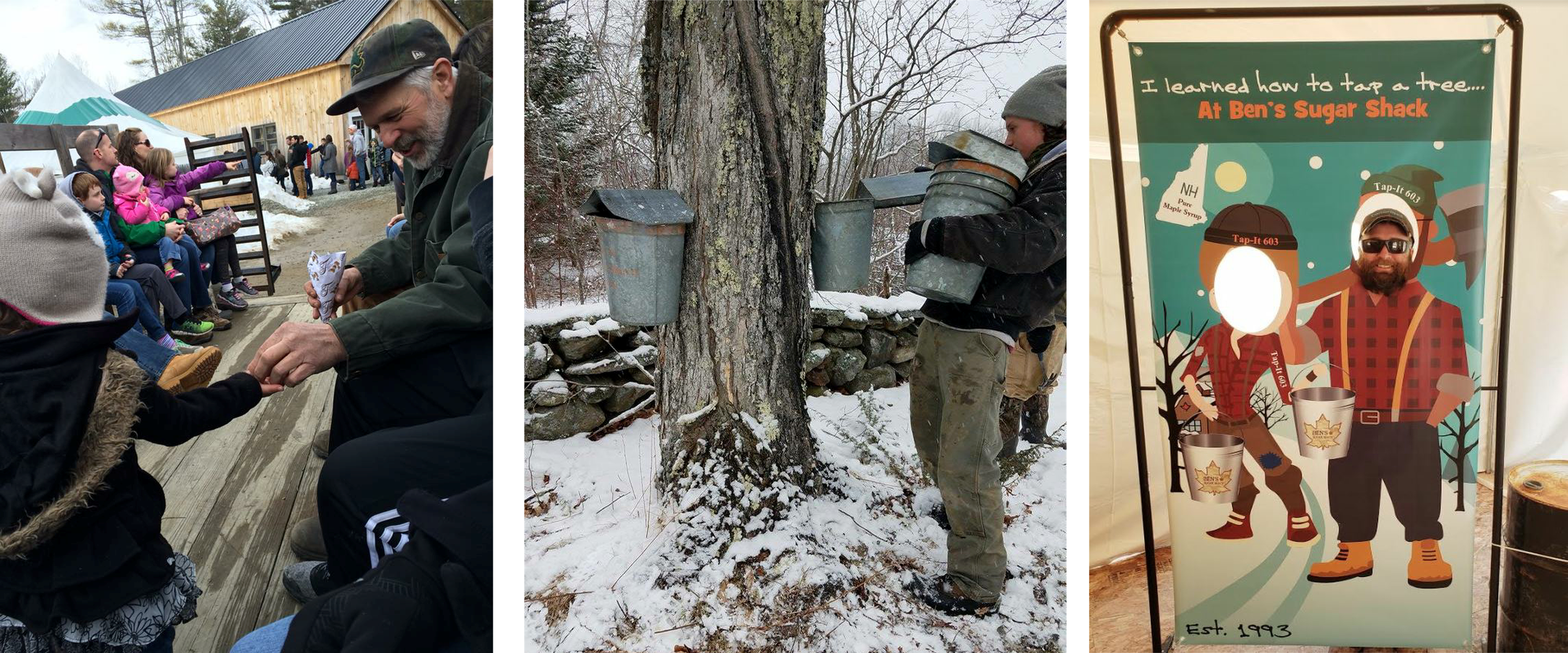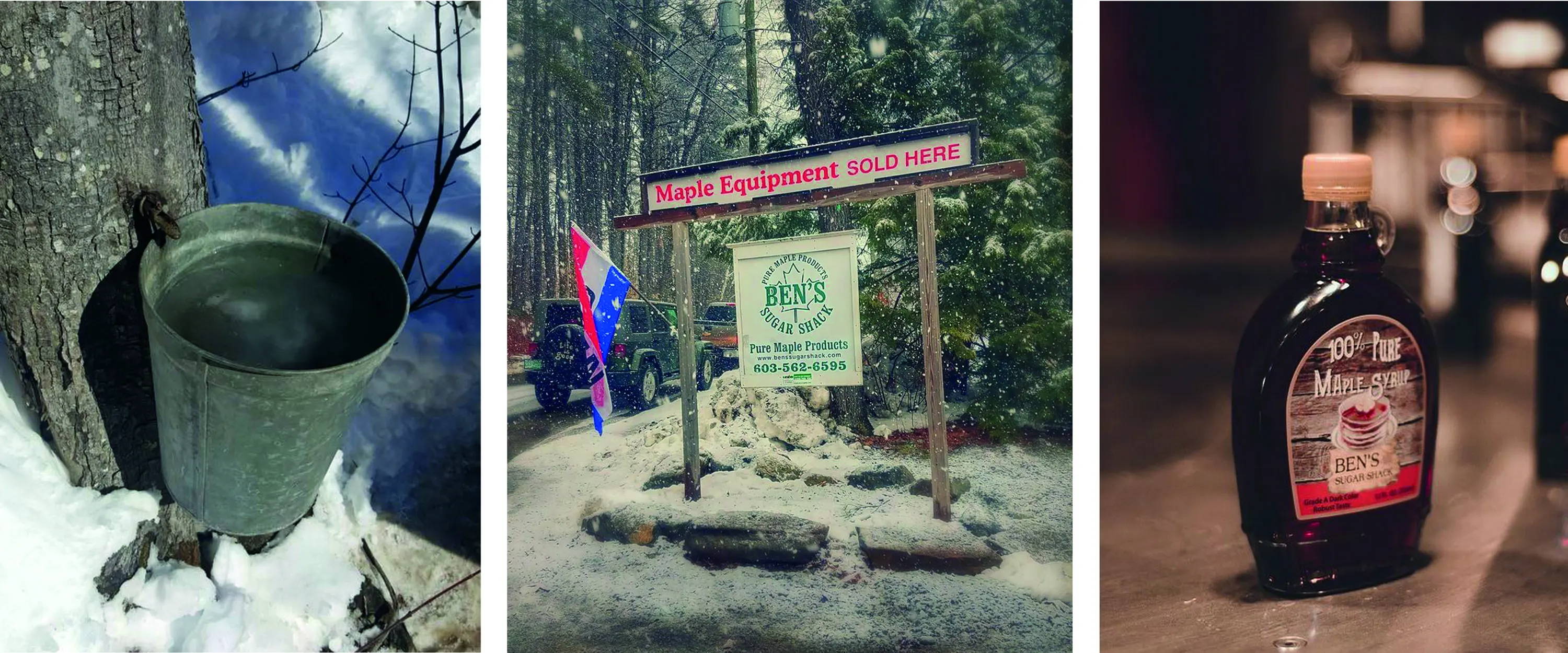 What you need to know before your visit!
-Tours are outside so please dress warm and have good shoes!
-Our heated tent stays pretty warm (Unless it is -10° outside).
-We conduct Tours rain or shine!
-We have a porta-potty for public use.
-We are handicapped accessible in the gift shop, tent and evaporator room (fits an average size wheelchair). On the guided tour we can accommodate wheelchairs if there isn't much snow on the edge of the road ways.  
-Tours start every 15 minutes! There is no need for a reservation!
-During the season please check our facebook for any updates and changes!
-If you take pictures and have fun please leave a review or tag us!
-Parking goes along the side of a road, please use caution if you have kids!

A guided tour to showcase our maple trees and sugaring process.
The Best Maple Tour Experience in the U.S
We truly enjoy serving our guests with as many samples of maple as we can! Who would have thought you could do so much with Maple Syrup! Most consumers only use maple syrup for a traditional breakfast but once you visit us we will help your taste buds expand! Here is a short video of what its like here on the weekends during the tours.
---