Pure Maple Syrup Buttermilk Biscuits
Makes 12 biscuits.
Prep Time: 15 minutes.
 
Bake Time: 25 minutes.

Preheat Oven to 350
For Biscuits:
•4-5 slices of Bacon, fry and crumble
•1 3/4 Cup Flour
•1 Tbsp Sugar
•1 1/2 tsp Baking Powder
•1/8 tsp Baking Soda
•1/2 cup Cold Butter
•3 Tbsp Pure Maple Syrup
•1 /3 Cup Buttermilk

Egg Wash:
•1 Egg
•2 tsp Heavy Cream

•Optional Coarse Salt or Sanding Sugar

•Additional Maple Syrup to drizzle over
warm biscuits.

          In a medium bowl whisk together Flour, Sugar, Baking Powder, and Baking Soda. Cut in Butter with a pastry blender or two knives will work well. Continue to mix together just until you have small pea-sized crumbles. Now, incorporate your cooked Bacon, Buttermilk, and Maple Syrup. Form a nice ball, don't overwork the dough. On a well floured surface roll out to about one inch thick. With a small biscuit cutter, cookie cutter, or with a knife cut out biscuits. Re-roll dough until you've used it all. Arrange biscuits on a baking sheet lined with parchment paper. Bake @350 for about 22 minutes, until they begin to look golden brown. Remove biscuits from oven, drizzle or brush on one teaspoon of Maple Syrup over each biscuit. Pop them back in the oven for about 2-3 more minutes. While they are warm sprinkle the biscuits with coarse salt or for a sweeter taste Turbinado Sugar or Sanding Sugar.
          Nothing warms the heart or the belly more on a cold Winters morning than fresh biscuits hot out of the oven. These simple Buttermilk Biscuits come together in no time. Maple and bacon are the perfect combination, giving you that Sweet N Salty satisfaction. Feel free to add cheddar cheese to the dough as well. Slice the, fresh from oven, biscuits in half and spread with butter or top with an egg. For a sweeter treat, mix a few tablespoons of butter with Maple Syrup to make Maple Butter. They are also deliciously, snack-able all on their own. Enjoy!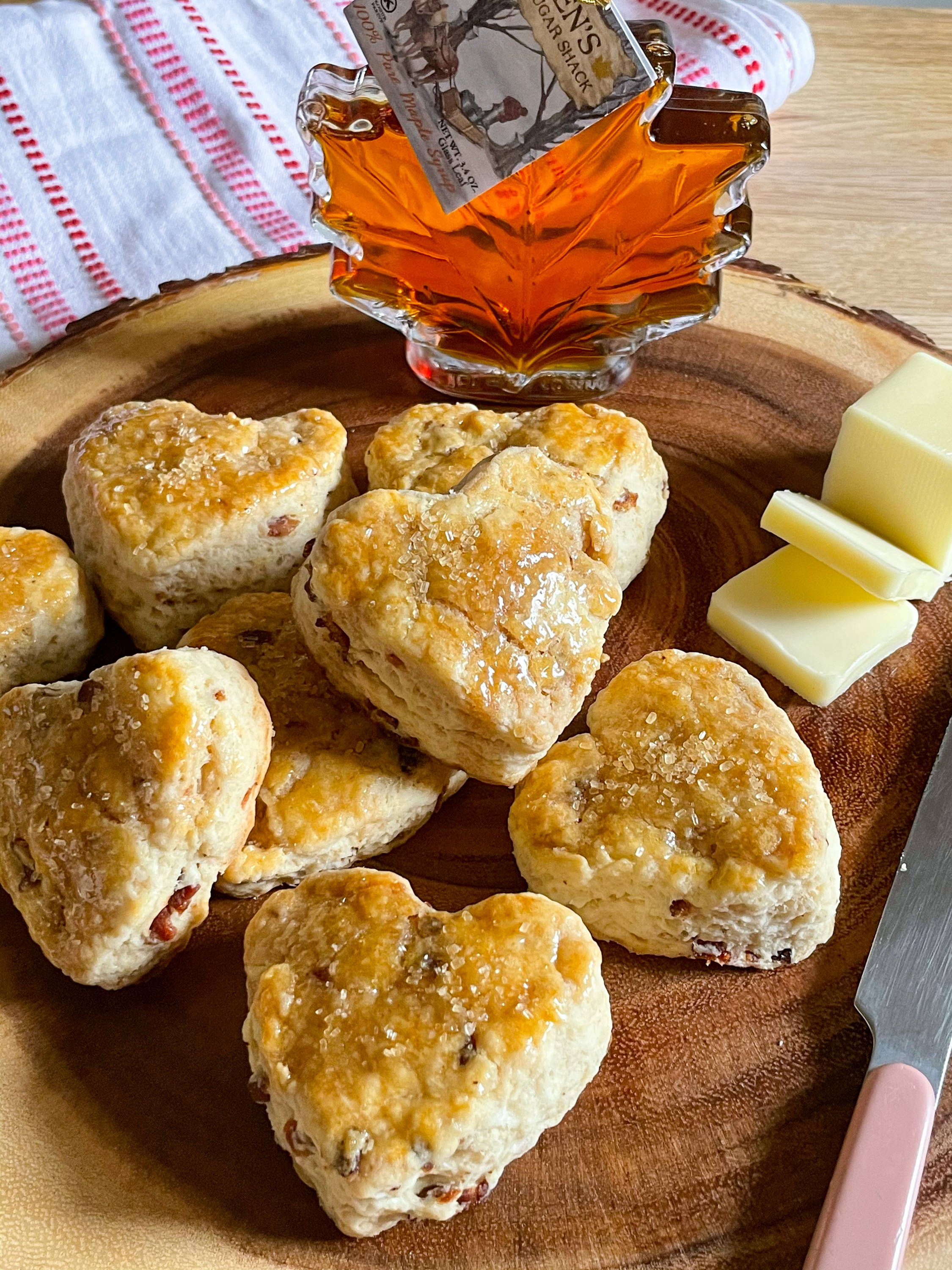 ---